Study Abroad in Oslo and London 2017: The Age of Migration
Click each student's name to read more about their time abroad.
Presentations of Norway (created by students in The Age of Migration course):
How to Do Norway in Style (by William and Steven) and An Oslo Education (by Alex and Darcy)
---
Micheline van Riemsdijk
J. Harrison and Robbie C. Livingston Professor of Population Geography
Associate Professor
Department of Geography
Email: vanriems@utk.edu
Google Scholar | Researchgate.net
Dr. van Riemsdijk's research agenda is broadly defined by questions of belonging and exclusion, barriers to the free movement of skilled labor in the European Union, and the restructuring of skilled labor markets. She is especially interested in the ways in which institutions and actors shape international skilled migration flows, and how migration regulations are formed, contested, and possibly transformed.
She is currently examining the integration of foreign-born engineers in the workplace (with Scott Basford). The results will be presented at an author workshop on international skilled migration at Georgetown University's School of Foreign Service in Qatar and submitted to a special issue for the Journal of Ethnic and Migration Studies.
Dr. Marion Panizzon (University of Bern) and Micheline van Riemsdijk are serving as guest editors for a special issue on multilevel governance in international migration, to be submitted to the Journal of Ethnic and Migration Studies. The contributors  convened for an author workshop at the University of Bern in February 2017.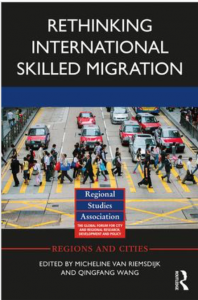 Together with Dr. Qingfang Wang, Dr. van Riemsdijk has edited a book on Rethinking International Skilled Migration (Routledge 2017). How have international skilled migratory flows been formed, sustained, and transformed over multiple spaces and scales? How have these processes affected cities and regions? And how have multiple stakeholders responded to these processes? The contributors to this book bring together perspectives from economic, social, urban, and population geography in order to address these questions from a myriad of angles. Empirical case studies from different regions illuminate the multiscaled processes of international skilled migration. In particular, the contributions rethink skilled migration theories and provide insights into: the experiences of highly skilled labor migrants and international students; issues related to transnational activities and return migration; and policy implications for both immigrant source and destination countries. It also charts a future research agenda for international skilled migration research.
Dr. van Riemsdijk has led a project on the governance of international skilled migration and the involvement of stakeholders in migration policymaking. The project investigated the experiences of foreign-born engineers and information technology specialists in Oslo, Stavanger, and Kongsberg, and the socio-spatial strategies of stakeholders to influence migration policies at local, regional, and national scales. This research was funded by the National Science Foundation (Award #1155339).
She has also conducted research on the place-making strategies of foreign-born nurses and IT specialists in Oslo, talent acquisition in IT companies in Bangalore, India, the politics surrounding the European Blue Card, and the transfer of professional qualifications in the European Union. Prospective students are encouraged to contact Dr. van Riemsdijk at vanriems@utk.edu.